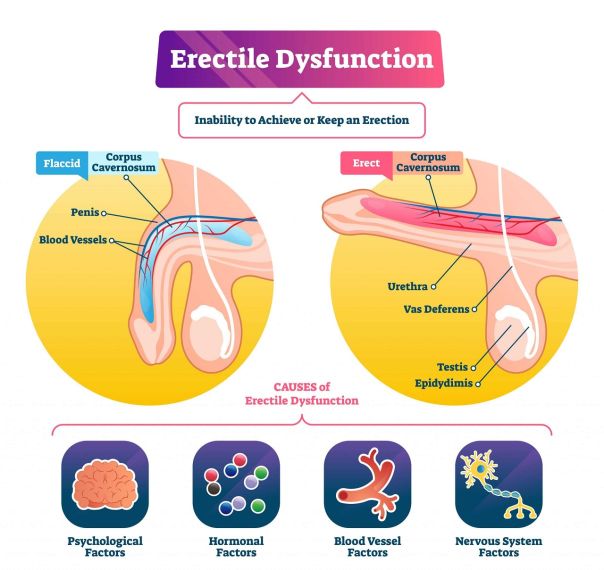 The development of erectile dysfunction is attributable to neuronal, vascular, hormonal, metabolic, and psychological factors. As explained by the best sexologist in Delhi that erectile dysfunction is found more frequently in men with hypertension, hyperlipidemia, acute coronary syndrome, diabetes mellitus, and metabolic syndrome, supports the hypothesis that this disease is an important marker of future cardiovascular risk. This point has been deepened in a study published in 2016 in the Journal of Sexual Medicine entitled Coronary heart disease, diabetes and sexuality in men. This work surveys different studies in this regard, and summarizes the recommendations for sexologists in Delhi who receive patients with erectile dysfunction in consultation.
In long-term research conducted in Western Australia, it was found that men with erectile dysfunction have a cardiovascular risk seven times higher compared to men without the disease. It is therefore not surprising that the prevalence of erectile dysfunction is higher in patients with heart disease, and it has been found to range from 42% to 75%.
Analyzing the different risk factors, hyperlipidemia contributes to erectile dysfunction through endothelial dysfunction, affecting the relaxation of the cavernous smooth muscle. In fact, population studies have shown that dyslipidemia and obesity are the main risk factors for erectile dysfunction. According to different studies, approximately between 26% and 70% of men with erectile dysfunction had an increase in serum cholesterol.
On the other hand, researchers Curkendall and Glasser found that 18% of the population studied with erectile dysfunction had undiagnosed hypertension. In general, erectile dysfunction is twice as common in hypertensive patients as in men with normal blood pressure, and it is also more serious.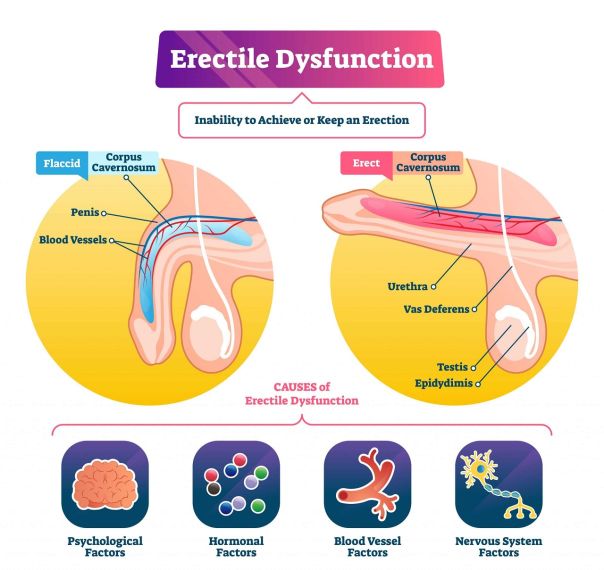 Let's now look at some recommendations for doctors based on the International Consultation on Sexual Medicine Reports:
-The detection of erectile dysfunction provides the opportunity to decrease the risk of cardiovascular disease.
-Erectile dysfunction is a marker for a significantly increased risk of cardiovascular disease, coronary artery disease, stroke, and all-cause mortality.
-The risk of coronary events associated with erectile dysfunction is higher in younger men (30 to 60 years of age).
-Erectile dysfunction has a similar or even higher risk of predictive value for cardiac events than traditional risk factors such as family history, myocardial infarction, smoking and hyperlipidemia.
-Erectile dysfunction often occurs in the presence of silent coronary artery disease, with a time window from the onset of dysfunction to a coronary artery event of two to five years.
-The more severe the erectile dysfunction, the greater the degree of risk of coronary artery disease, its possible severity and the risk of peripheral artery disease.
-Lifestyle modification is generally recommended as the part of first-line treatment to correct erectile dysfunction and decrease cardiovascular risk, but evidence suggests that this could be effective only in men without established cardiovascular comorbidities.
-Recent studies have suggested that phosphodiesterase type 5 inhibitors, the first-line drugs to treat erectile dysfunction, could decrease cardiovascular mortality through multiple mechanisms, predominantly related to improved endothelial function.
The final recommendation to sexologist doctors in Delhi is not to fall into the prejudice that erectile dysfunction is always of psychological cause. Therefore, it is necessary to carry out different studies to understand its nature and the risk factors involved in its development. In this way, erectile dysfunction treatment in Delhi will be more effective, and in some cases it will reduce the risk of future cardiovascular events and prevent the progression of the severity of erectile dysfunction. Sexologist in Delhi suggests that there is a three to five year window from the onset of dysfunction to subsequent cardiovascular events, therefore we cannot ignore the opportunity to detect them.