Fondly called as the Valley of Gods, Manali is one of the fascinating hill stations in India and among the popular places to visit in Himachal Pradesh. This pristine hill station is known for its pleasant weather, jaw-dropping views, lush forests, gushing streams and sprawling meadows carpeted with flowers. Besides, this enchanting hill stations of Himachal boasts some stunnng waterfalls, and visiting these waterfalls is one of the best ways to explore the Himalayas through deodar forest cover, rolling hills, and mountain valleys. Apart, these charming waterfalls are also a great place for day picnics where one can take a dip in these cool waters that will surely be a refreshing activity that will fill your body and mind with delight and positive vibes that draws numerous tourists as part of Manali Tour Packages.
Jogini Waterfalls
Jogini or Jogni Falls is a beautiful waterfall situated near Vashisht Village in Himachal Pradesh. Formed over a tributery of Beas River, it is one of the popular places to visit in Manali. The waterfall cascades down from a height of around 150 feet through multiple levels and forms a small pool at the base where visitors can take a dip in the water. Jogini mata temple is at the base of the waterfall which is a sacred site to the surrounding villages. The trek to Jogini Falls is among the best short treks near Manali as it passes through a narrow lane adjacent to Vashisht temple and goes through apple orchards, tall pine trees and small water streams.
---
Rozy Falls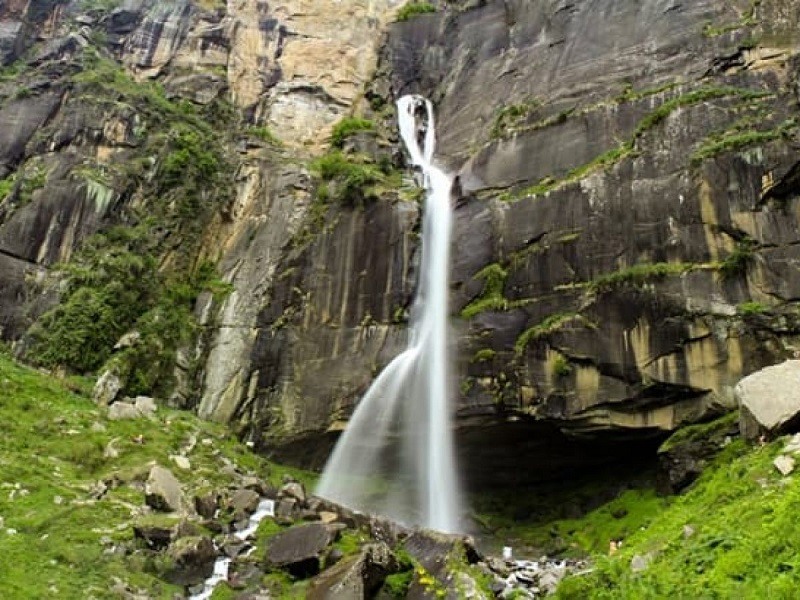 Rozy Waterfall is a stunning waterfall located near Gulaba on Leh-Manali Highway in Himachal Pradesh. Situated on the way to Rahala Waterfalls, it is one of the best waterfalls in Manali and among the best places to visit as part of Himachal Packages. Cascading down from the surface of large rocks, Rozy Falls is famous for its sensational backdrop as it is surrounded by tall deodar trees, vast green valleys & forested mountains. The silvery cascading water is a visual delight to the eyes and is a perfect place to spend some serene moments in the lap of nature.
---
Rahala Falls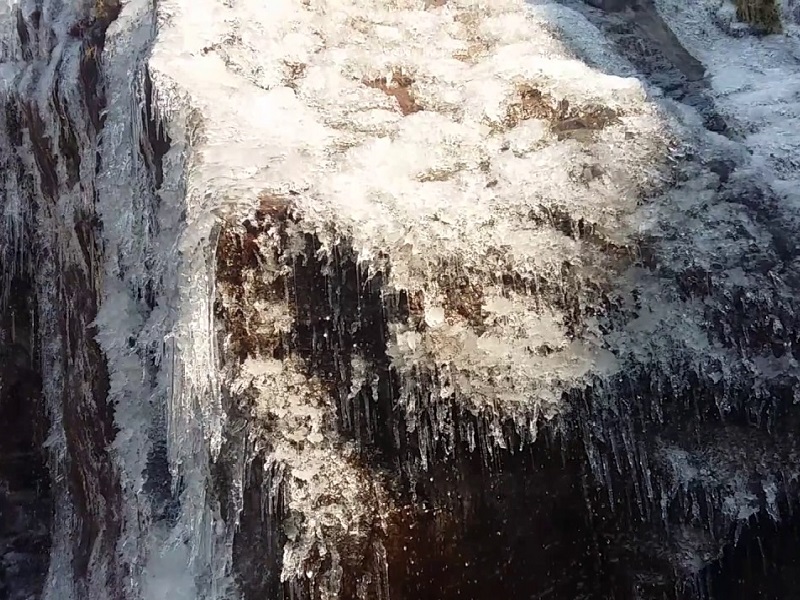 Adjacent to Leh – Manali Highway, Rahala Falls is a waterfall located on the way to Rohtang Pass from Manali. It is one of the best waterfalls in Himachal state, and among the major places to visit as part of Manali holiday packages. Situated at an altitude of 2501 m, it is generally believed to be the outcome of melting of glaciers and so the water of this fall is extremely cold. Rahala Waterfalls is situated in a very pristine area surrounded with dense growth of silver birch and deodar. The area around the Rahala Waterfalls is absolutely marvelous and the location also allows a picture perfect view of the snowcapped Himalayas.
---
Jana Falls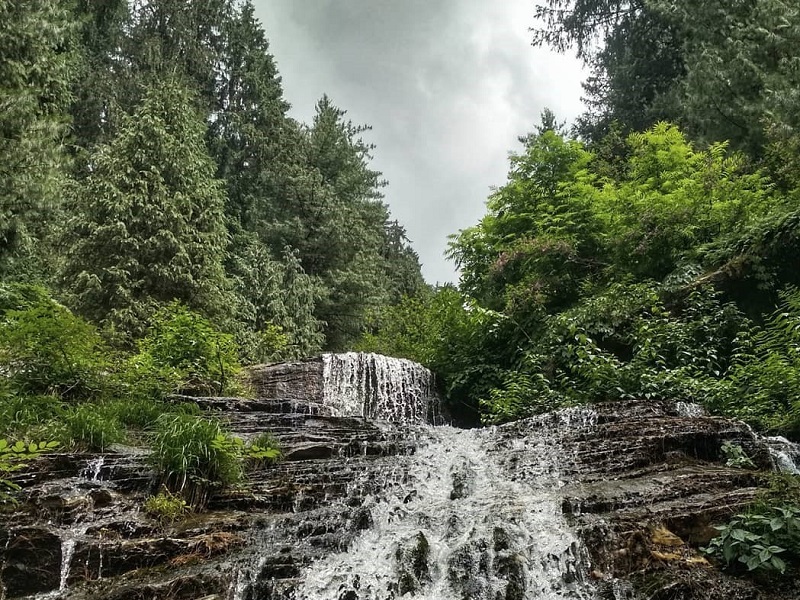 Jana Falls is a beautiful natural waterfall situated at Jana village near Manali. It is one of the best waterfalls near Delhi, and among the must-include places in Manali holiday packages. Jana Waterfall is a 30 feet high waterfall surrounded by deodar trees, pine trees, apple orchards, and spectacular snow-covered mountain peaks. The first sight of the falls is quite hidden and will be a surprise for the visitor as the water unexpectedly rushes from a cluster of rocks overlooking a wooden bridge. Visitors can enjoy a refreshing bath at Jana waterfall.
Knoi Waterfall / Sajla falls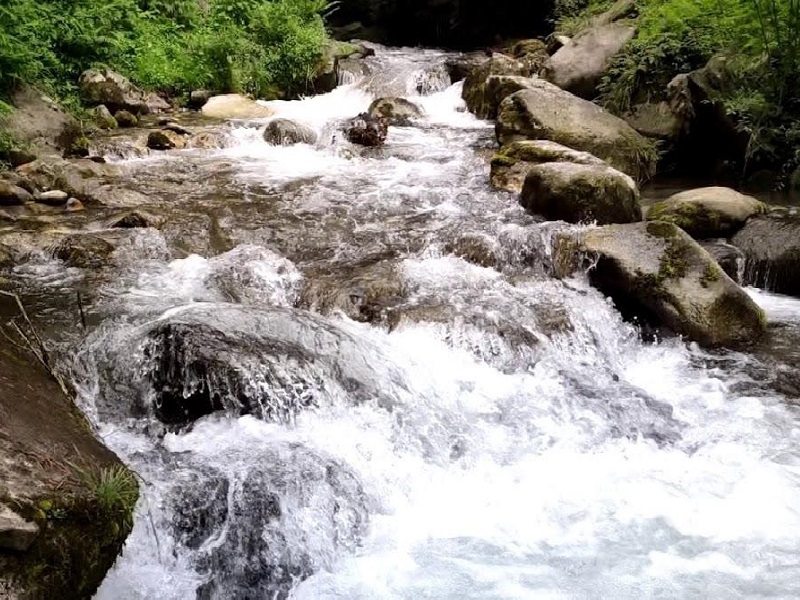 Knoi Waterfalls is one of the stunning waterfall located just 10 km away from  Manali, among the top hill stations near Delhi. This is a 20 feet small waterfall from the rocky mountains of the Himalayas. The cascade and its base looks like a cave formation. The waterfall and its surrounding places are the best to take postcard size photos. It is recommended to visit this falls during monsoons as it is dry during the non-rainy season.
---
Baroad Parsha Water Fall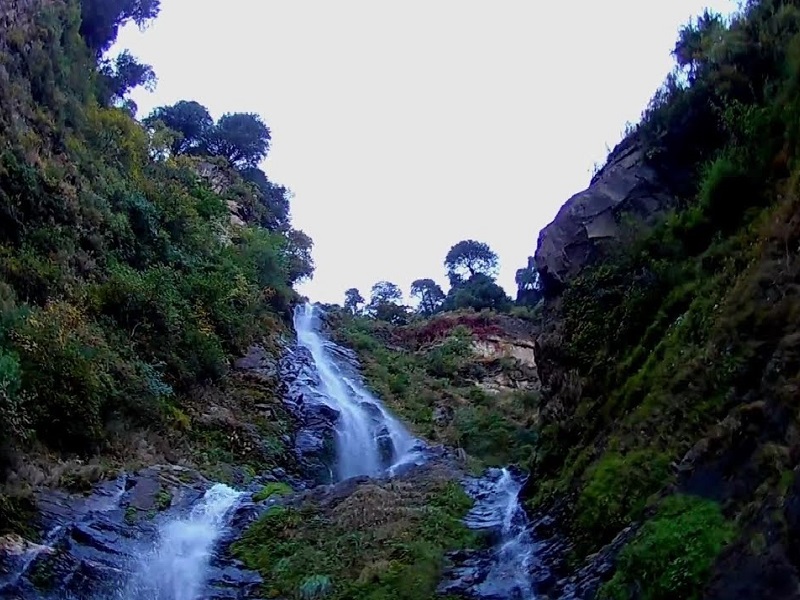 Baroad Parsha waterfall is one of the recently developed tourist destinations in Manali. among the famous places to visit near Chandigarh. This falls is an eco-tourism initiative by the Government and Himachal Pradesh Forest Department. Separates the two villages Baroad and Parsha, the rippling flow of water from the mountains is breathtaking. A foot bridge is constructed recently over the waterfall which is a perfect place for photo-shoot and also there is a little shelter on the left side of the falls for relaxing and meditation.