With many people looking at constructive cosmetic options to improve their beauty, you surely want to know what to do when you need lip augmentation. Just as you can enlarge and correct other parts of the body using a special procedure, you can make upgrades to your lip also.
One of the common methods employed by beauty specialists is the use of lip filler techniques. But there are many things that could go wrong if you use the wrong approach. The page here has more on surgery for lip reduction.
When it comes to safety, no-needle lip filler augmentation is one of the reliable methods of improving mouth appearance. Want it to look full and well curved without any blemish? You surely want to get in touch with experts in the field. You can find more below for how to go about safe no needle lip filler augmentation.
What is No-Needle Lip Filler?
It is possible you are hearing about it for the first time or want to find out more about the cosmetic procedure. A no-needle lip filler technique involves the use of a hyaluron pen in filling the lip with hyaluronic acid. This brings about a smooth and painless augmentation as it does not include the use of needles which makes the procedure complicated.
Instead of piercing a hole in the skin with a needle, the hyaluron pen makes use of a high pressure force to deposit the product in the skin. This way, you get to avoid the swelling that is common when you prick the skin with a needle.
What is the Hyaluron Pen?
It is a gear designed for medical use. It was initially adopted to deliver insulin shots to diabetic patients before it becomes a beauty trend. And like every trend, there are a few things to note before getting on board.
Experts believe that the use of the pen in lip filling could pose a serious health risk. Plumping the lip with a high pressure force like in the case of no needle lip filling could also cause side effects but more on that later on.
What are the Benefits of No Needle Lip Filler?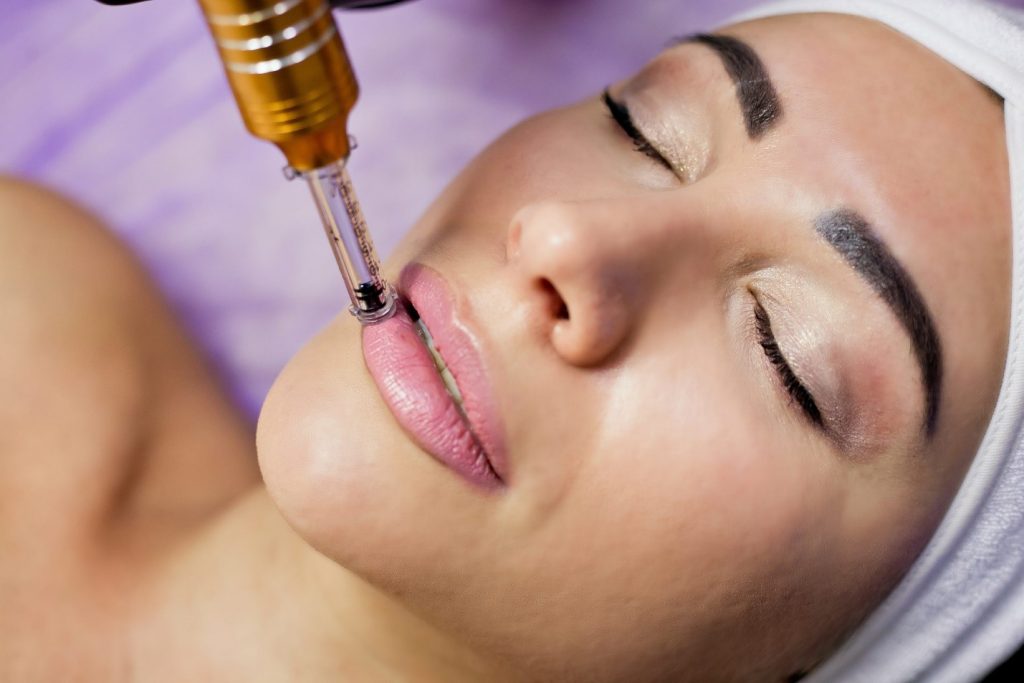 You likely will be interested in knowing what you stand to gain from spending time at the cosmetic shop for a lip filling procedure. And if you aim to go for a painless and needless method, you can be sure there is a lot you stand to gain. Below are some of the ways that you will find the procedure to be helpful.
Painless Lip Augmentation
You will surely enjoy a softer and well-rounded lip which you get without any discomfort. And if you know anything about needles, you know they are capable of doing damage to the body.
With the use of high pressure point delivery, all that you will experience is a tingling sensation that goes almost immediately after impact. It requires a great deal of experience to be able to pull it off without any complications, so you want to make sure to opt for the best.
Cheap and Effective
Although tattoo houses and beauticians charge hundreds of dollars or more for the procedure, you can find experts who offer quality and affordable services. But generally, when compared to other cosmetic and corrective procedures, no needle lip filling doesn't cost much.
No-Risk Involved
While you can suffer mild irritations after the procedure, it can't be compared to when you use a needle or other high-impact methods that could affect the skin. With high pressured contact with a hyaluronic pen, there is zero to little complication afterward.
How to Avoid Complications
For starters, you want to meet with a skilled professional with experience using the hyaluron pen. With a professional touch, you stand the chance of coming out unscathed at the end of the treatment. Whether you choose to go with a beautician or medical expert, you want to be sure they are well equipped to deliver quality.
Most professionals order two sessions, prep the area, carry out the initial deposit and then complete the process days later. This helps reduce the stress on the skin and will likely prevent any swelling or irritations that occur at once. It is possible that you can lose volume after 6-9 months as most of the hyaluronic acid has been metabolized months later; you will have to touch up the volume to improve look and fullness.
Side Effects to Watch Out For
Common complications after the procedure include inflammatory skin reactions due to the presence of a foreign substance on the skin. And the hyaluronic acid used could do damage to sensitive skin. It is also common for there to be abscesses, scaling, or staining of the lip, but the good thing is it is usually temporary.
Also common is a fungal or bacterial infection that occurs during the deposition stage. It can be easily avoided with proper care and enforcing neatness during the procedure. You can also contact transmittable diseases during the process as most professionals use the same device on many clients. You could also suffer complications such as injuries to the face due to the unprofessionalism of the artist. So you always want to get the best service you can find.
Finding the Best Professionals
Finding the best professional for a no-needle lip filling procedure doesn't have to be challenging as you can just anyone who knows how to use a pen. But when it comes to the hyaluron pen, you want to make sure they know what they are doing.
So when it comes to finding the best beauticians, there are ways to do this. You can always find out from beauty specialists if they know experts that can help out. Anyone in the cosmetic field could know a thing or two about where to get the proper fix.
You can also find the web useful when looking for beauty parlours near you. An online search could be helpful in finding businesses that provide services in your area. So you may want to consider that option too.