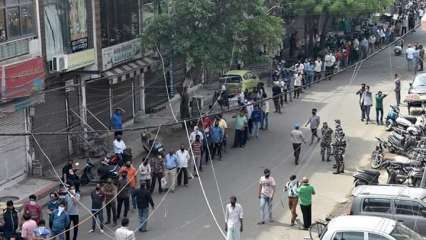 In good news to tipplers in Mumbai, the BMC has allowed home delivery of liquor via e-commerce platforms in the city as coronavirus-enforced lockdown guidelines have been relaxed by the municipal authorities.
The Brihanmumbai Municipal Corporation (BMC) has issued guidelines for sale of liquor in the city except in COVID-19 containment zones.
The sale will be limited to home delivery and over-the-counter sale of liquor will not be allowed yet, it said.
"E-commerce platforms may be utilised by the liquor shops permitted to do home delivery," the BMC said in an order.
Sale of liquor was banned among other non-essential things as the nationwide lockdown was imposed on March 25. The lockdown was further extended thrice till May 31.
As the sale of liquor started in different parts of the country after the relaxation in guidelines on May 4, huge crowds were seen at liquor shops, including in Mumbai following which the civic body withdrew the relaxation.
While the online sale and home delivery of liquor started in various parts of the same was not permitted in Mumbai.
However, with the new order, tipplers in Mumbai will be able to enjoy drinks in the comfort of their homes.
Mumbai is the worst-affected city in the country with 34,107 positive cases and 1,027 deaths so far. On Friday alone, 1,751 new cases and 27 deaths were recorded in the state capital.
Maharashtra has so far recorded 44,582 COVID-19 cases and 1,517 deaths.