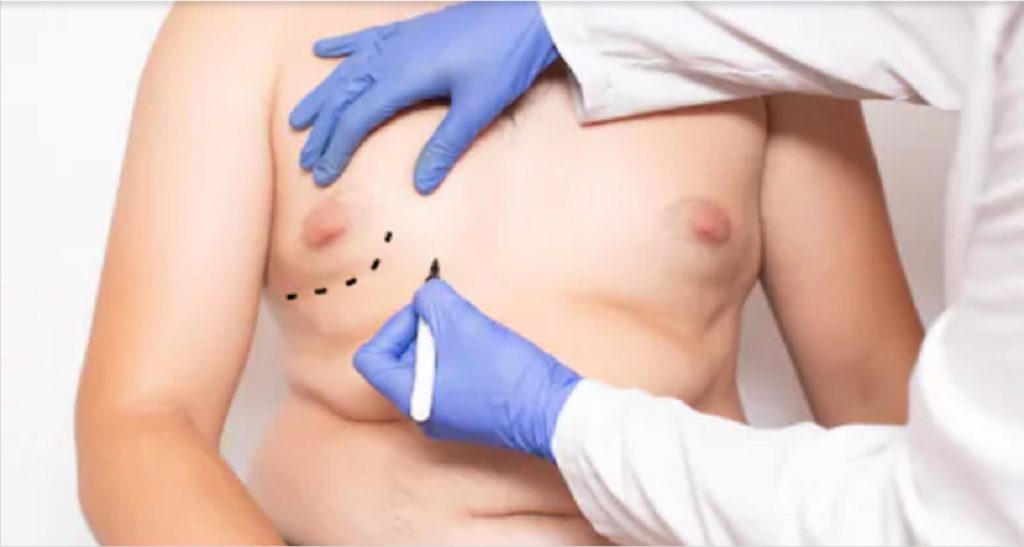 Gynecomastia surgery or male breast reduction surgery in Delhi reduces the size of the breasts in men, smoothing and improving the contours of the chest.
In severe cases of gynecomastia, the weight of excess breast tissue can cause the breasts to combine and stretch the areola (the dark skin surrounding the nipple). In these cases, the position and size of the areola can be surgically improved and excess skin can be reduced.
Plastic surgery in Delhi to correct gynecomastia is technically called reduction mammoplasty.
Candidates for gynecomastia surgery in Delhi include:
Men whose condition cannot be corrected through alternative medical treatments.
Healthy individuals who do not have a life-threatening illness or medical conditions that can affect healing.
No smokers and no drug users.
Men with a positive attitude and specific goals in mind to improve the physical symptoms of gynecomastia.
Men physically healthy and of relatively normal weight.
Men who have realistic expectations.
Men whose breast development has stabilized.
Men who are bothered by the feeling that their breasts are too large.
Teenagers may benefit from surgery of male breast reduction surgery in Delhi, although secondary procedures may be needed in the future if breast development continues.
Consultation For Male Breast Reduction Surgery in Delhi
During your consultation for gynecomastia surgery in Delhi prepared to discuss:
Your surgical goals.
Medical conditions, allergies to medications and medical treatments.
Current medications, vitamins, herbal supplements, alcohol, tobacco and recreational drugs (including steroids).
Previous surgeries
Your plastic surgeon in Delhi can also:
Evaluate your general health status and any pre-existing health conditions or risk factors.
Perform diagnostic tests to determine the underlying cause of gynecomastia; This may include tests of your endocrine function.
Examine your breasts and take detailed measurements of their size and shape, the quality of the skin and the location of your nipples and areolas.
Take pictures for your medical records.
Discuss your options.
Recommend a course of treatment.
Discuss the likely results of gynecomastia correction and any risks or possible complications.
Discuss the use of anesthesia during your procedure.
It is very important to understand all aspects of your surgical procedure. It is natural to feel some anxiety, either because of its new anticipated appearance or because of some preoperative stress. Do not be shy to discuss these feelings with your plastic surgeon.
Preparation
In preparation for gynecomastia surgery, you may be asked to:
Obtain laboratory tests or a medical evaluation.
Take certain medications or adjust your current medications.
Stop smoking.
Avoid taking aspirin, anti-inflammatory medications, and herbal supplements as they can increase bleeding.
The success and safety of your gynecomastia surgery in Delhi depend largely on your sincerity during your consultation. You will be asked a series of questions about your health, your wishes, and your lifestyle.
Male breast reduction surgery in Delhi can be performed in an accredited surgical center, in an office, in a licensed ambulatory surgery center or in a hospital. Be sure to make arrangements for someone to drive you home and surgery, and to stay with you at least the first night after surgery.
Recovery
During your recovery period from gynecomastia surgery in Delhi, dressings or bandages will be applied to your incisions and an elastic bandage or support garment can be used to minimize swelling and support your new chest contour as it heals after surgery.
A small, thin tube may be temporarily placed under the skin to drain any excess blood or fluid that may accumulate.
You will be given specific instructions that may include how to take care of the surgical site and drains, medications to apply or take by mouth to aid healing and reduce the potential for infection, specific concerns that you should look for in the surgical site or in your health General and when to follow up with your plastic surgeon in Delhi.
Be sure to ask your plastic surgeon in Delhi specific questions about what you can expect during your individual recovery period.
Where will they take me after my surgery is completed?
What medication will I be given or prescribed after surgery?
Will I have dressings/bandages after surgery? When will they be eliminated?
Are points removed?
When can I resume normal activity and exercise?
When do I return to receive follow-up care?
It is very important to follow your plastic surgeon's instructions and attend follow-up visits as scheduled.
The final results of male breast reduction surgery in Delhi are permanent in many cases. However, if gynecomastia is the result of the use of certain prescription medications, medications (including steroids) or weight gain, you must be completely free of these substances and maintain a stable weight to maintain your results. Discuss this with your doctor before making changes to your prescription medications.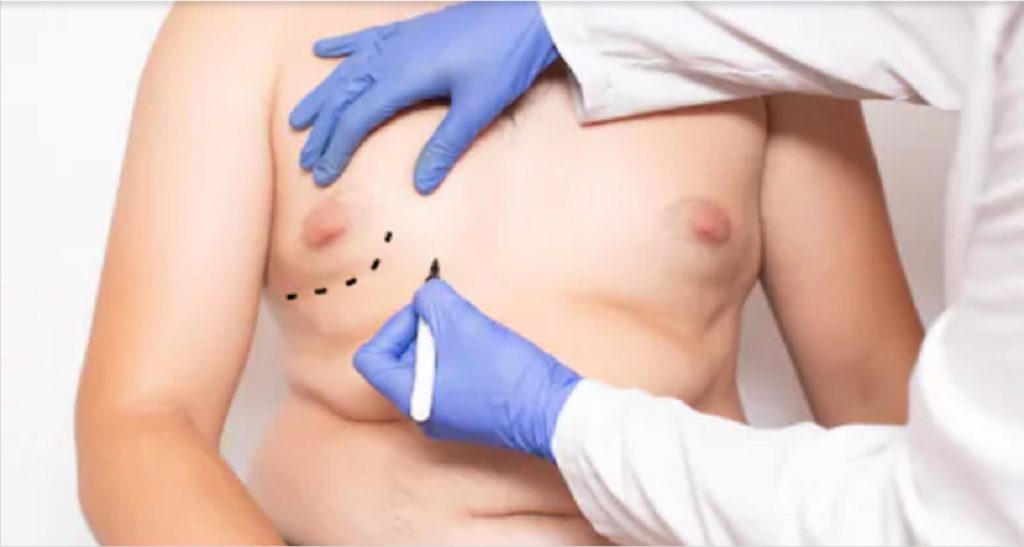 Recovering from home gynecomastia surgery
If you experience difficulty breathing, chest pains or unusual heartbeats, seek medical attention immediately. If any of these complications occur, it may require hospitalization and additional treatment.
Following your doctor's instructions is essential for the success of your surgery.
It is important that surgical incisions are not subject to excessive force, swelling, abrasion or movement during the healing time. Your doctor will give you specific instructions on how to take care of yourself.
Results
The results of gynecomastia surgery in Delhi are immediately visible. Over time, the post-surgical swelling will resolve and the incision lines will fade. Satisfaction with your new image should continue to grow as you recover from surgery.
The final results of your gynecomastia surgery can take between 3 and 6 months. The incision lines are permanent but will continue to fade over time.
Scars of gynecomastia surgery
Any surgical treatment to correct gynecomastia will require incisions. While most incision lines are hidden within natural contours, some may be visible and are a necessary result of male breast reduction surgery.
All gynecomastia surgery scars are permanent, although some scars can hide in the natural contours of the breast. The upper part of your body will improve your self-esteem and your confidence, whether with a shirt and tie, a shirt or showing your chest on the beach.
The practices of surgery are not an exact science. Although good results are expected from your procedure, there is no guarantee. In some situations, it may not be possible to achieve optimal results with a single surgical procedure to treat gynecomastia.
Other surgery may be necessary:
To perform additional tightening or repositioning of the breasts
To treat any complications that may occur.
List of Best Plastic Surgeon For Male Breast Reduction Surgery in Delhi
These are the best plastic surgeon in Delhi, according to the information available on the Internet.
It is difficult to know from the information currently available on the Internet who is the best plastic surgeon in Delhi. That is why we have proposed to make a ranking based on the data provided by Google users.
Then we proceed with our list of the best plastic surgeon in Delhi according to the scores of Google users.
To elaborate it, we have taken into account not only that the average scores of the doctors were the highest, but also that the number of votes was relatively high in order to avoid biases as much as possible.
Dr. Ashok Tandon
MBBS, MS, M.Ch. (Plastic and Reconstructive Surgery)
Burn Surgeon, Plastic Surgeon, 31 Years Experience Overall
Dr. Ashok Tondon is working at Jaipur Golden Hospital as a Senior Consultant in the Department of Plastic Surgery. He has vast experience in performing Plastic, Cosmetic, Reconstructive, Microvascular, burn and Hand Surgeries. He has treated many cases of Pigmented Lesions, Gynecomastia Surgery, Dermabrasion, Laser Resurfacing, Scar Treatment, Wart Removal, Photofacial, Leucoderma Treatment, Polishing, Lasers Anti Aging Treatment, Laser, Dermaroller. He is actively involved in academics and the teaching of DNB surgery students.
Address: Pocket 1, C-599/8, Bhagawan Mahavir Marg, Pocket 8, Sector 8C, Rohini, New Delhi 110085
Phone: 098112 07817
Email ID: ashok7359@gmail.com
Website: www.tandonclinic.com