Beauty products are now moving towards sustainability, No surprise that Ayurvedic skincare products are now the centre of attention. When it comes to skincare, ayurvedic products always show the best results. Made from pure and natural ingredients these products are free from harmful and toxic chemicals, parabens and sulphates. And the plus point is skincare products that are made using natural ingredients work well for all skin types without any side effects.
Ayurveda has many secrets that help in protecting the skin's natural glow. Ayurvedic products like facial oils, face packs and scrubs gently nourish your skin, cleanse the pores and improves skin health. And what's more interesting is that most of these ingredients are known and can be found in your kitchen!
Following are a few best ayurvedic skincare products in India you need for glowing and healthy skin: 
Rejuvenating & brightening ayurvedic night cream:
Kumkumadi rejuvenating and brightening ayurvedic night cream is an amazing leave-in night treatment to achieve youthful and naturally radiant skin. This cream is rich and its non-greasy formula penetrates deep into the skin and provides nourishment to the skin. It is a special blend of precious and rare ingredients that are clinically proven to reduce signs of ageing like fine lines, wrinkles and brighten skin tone. This amazing formula is blended with pure and finest saffron from Kashmir to enhance the skin tone, reduce dark circles, dark spots, acne scars and pigmentation.
24K Pure Gold Facial Serum: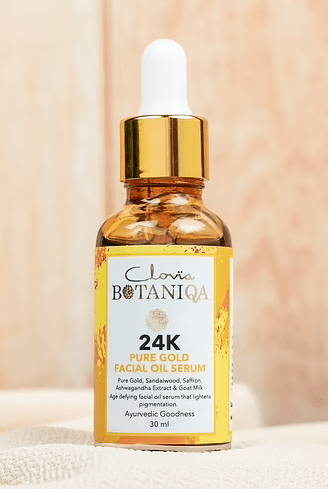 Clovia Botaniqa 24K Pure Gold Facial Oil Serum is a 100% pure natural product with no toxins, parabens or sulphates. This serum is highly enriched with natural ingredients like pure 24k gold, saffron, sandalwood, ashwagandha extract and goat milk. This serum helps to reduce signs of ageing like wrinkles, fine lines and lighten skin pigmentation. This serum gives a natural and radiant glow by making the skin look young, plumped and well hydrated. This serum is very light and penetrates into the deepest layer of the skin, providing enough nourishment and natural radiance. This serum also helps in shedding dead skin cells and makes the skin tone even and brighter. When it comes to getting flawless skin, nothing can beat the face serum.
Pink Clay Face Mask: 
Clovia Botaniqa pink clay face mask is highly enriched with pure organic extracts like Himalayan clay, Australian clay, seaweed and pomegranate for an instant natural glow. This amazing face mask detoxifies skin and prevents anti-ageing signs like fine lines and wrinkles. It also cleanses pores and treats acne. It gives smooth, fine and clear skin and helps in firming and toning skin cells.
Light Hydrating Facial Gel Pure Aloe Vera: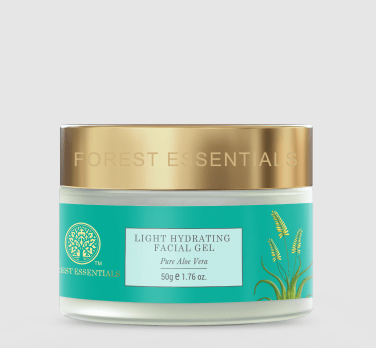 This Forest essentials moisturizing facial gel pure aloe vera is an amazing blend of naturally hydrating pure aloe vera, glycerin, and fresh cucumber extracts that soothes, refreshes and deeply moisturizes the skin. The blend of Wheat Germ extract and floral waters act as natural humectants, increasing the skin's moisture and improving skin tone.
Instant Glow Face Pack + Honey Massage Gel: 
This amazing value pack contains two products ideal for situations when you need an instant natural glow on your face in the shortest time possible. The Instaglow Almond Complexion Face Pack deeply cleanses the pores and allows your skin to breathe well giving it an instant radiant glow while the lightweight nourishing and rehydrating Honey Gel gives you the perfect amount of nourishment required without making your skin look greasy or oily.
Above mentioned products are a few of the best and safe ayurvedic products one can try. Remember one thing guys ayurvedic products have no side effects and they always give you the best results. So make sure to add all these products to your cart ASAP before they get out of stock!