Being one of the most ancient civilizations in the world, India is the land of beauty that harbors many age-old wonders than most other lands. Each state in India has a certain number of caves that are hidden inside the forests and valleys like buried treasure in this vast country, still unexplored and mysterious. These caves are regarded as one of the most famous places of heritage in India. Maharashtra is home to around 800 large, and small caves alone. Most of these caves are Hindu, Jain, and Buddhist cave temples. Besides religious importance, these caves are also recognized for their extraordinary sculptures and carvings dating back to pre-historic times. However, it is impossible to visit all these caves so we have listed some of the iconic caves that are worth visiting as part of Maharashtra Tour Packages.
Ajanta Caves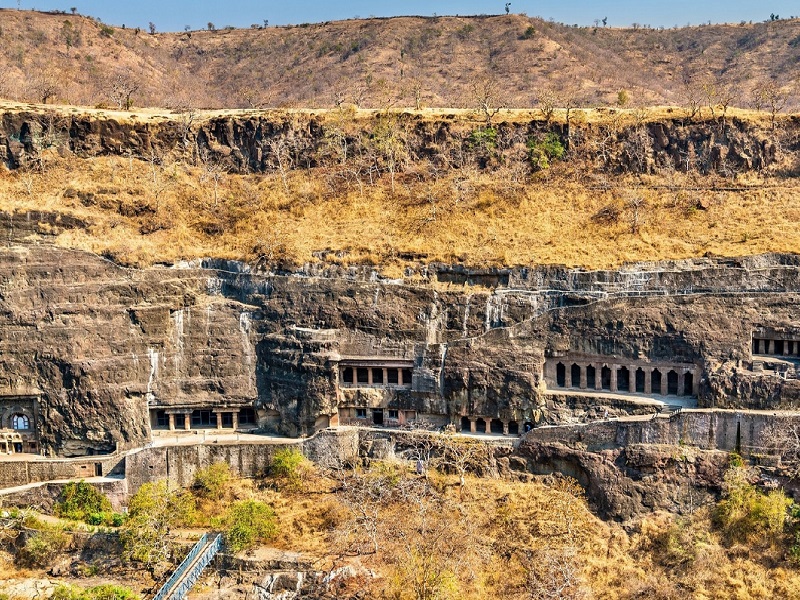 An epitome of fabulous cave architecture in India, Ajanta Caves are a group of 30 rock-cut Buddhist cave monuments belongs to the era between the 2nd century BCE and 650 CE. A UNESCO World Heritage Sites, the caves at Ajanta are one of the renowned Buddhist monuments in India, and among the most visited heritage sites in Maharashtra. According to history scholar Walter M. Spink, the caves of Ajanta were built in two phases. Caves 9, 10, 12, 13, and 15A were built in the first phase during the Satavahana dynasty and they belong to the Hinayana sect of Buddhism while the second period of construction was carried out during the rule of Emperor Harisena of the Vakataka dynasty. Representing both Theravada and Mahayana Buddhist traditions, the rock-cut caves have magnificent paintings depict the rebirths of Buddha and many Jataka Tales. Cave 1, 2, 16, 17, 19, and 26 are the must-visit tourist places in Ajanta..
---
Ellora Caves
The Ellora Cave Complex comprises of 34 caves that were hewn out of solid rocks of the Charanandri hills between the 6th and 10th centuries AD. Overlooking the Waghur River, it is the most visited monuments of heritage in India, and among the top tourist places in Maharashtra. The complex consists of 29 rock-cut caves. Of these, 12 are Buddhist caves, 17 are Hindu Caves and 5 are Jain Caves. The coexistence of structures from three different religions serves as a splendid visual representation of the prevalent religious tolerance of India. The main attraction of Ellora is Kailash Temple (Cave16), which is the most remarkable. The Kailash Temple is a stupendous piece of architecture, with interesting spatial effects and grand sculptures. Though all the caves are interesting to watch, Cave 1, 2, 16, 17, 19 and 26 are top places to visit in Ellora Caves.
---
Elephanta Caves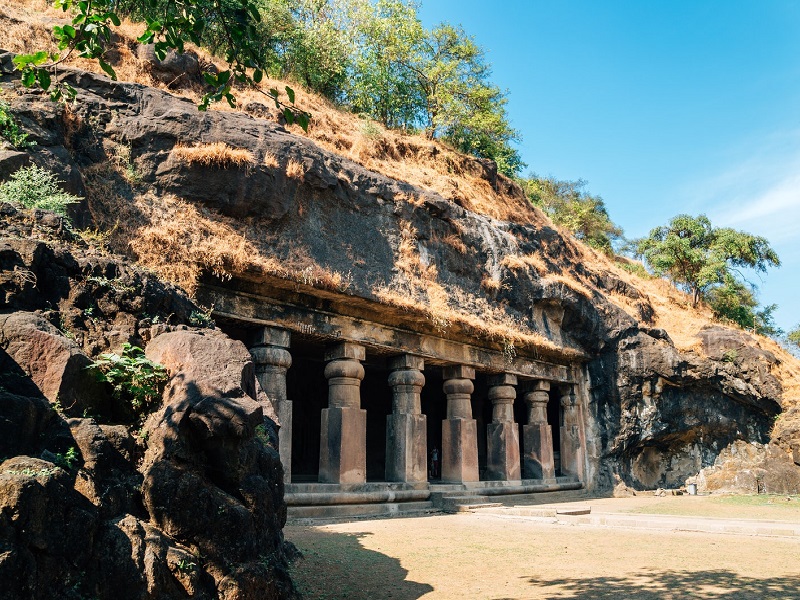 After Ajanta or Ellora Caves, the seven ancient rock-cut caves on Elephanta Island are the most famous caves in India as well as Maharashtra. The Caves, designated as a UNESCO World Heritage Site n 1987, is the oldest historic site in Mumbai, and among the must-include places in Mumbai tour packages. Elephanta Island has two groups of rock-cut caves carved between the 5th and 8th centuries. Five caves situated on the western hills of the Island are devoted to the Hindu sect Shaiva and various Hindu sculptures are chiseled in these caves. Famous sculptures of Hindu caves are Ravana holding up the Kailash, Shiva-Parvati on Kailash, Ardhanarishvara, Trimurti, Wedding of Shiva, Linga, Nataraja, Kartikeya, Yogishvara, and Matrikas. In the second group of Elephanta caves, various Buddhist sculptures can be spotted depicting numerous pictures of Gautama Buddha and Jataka Tales.
---
Karla Caves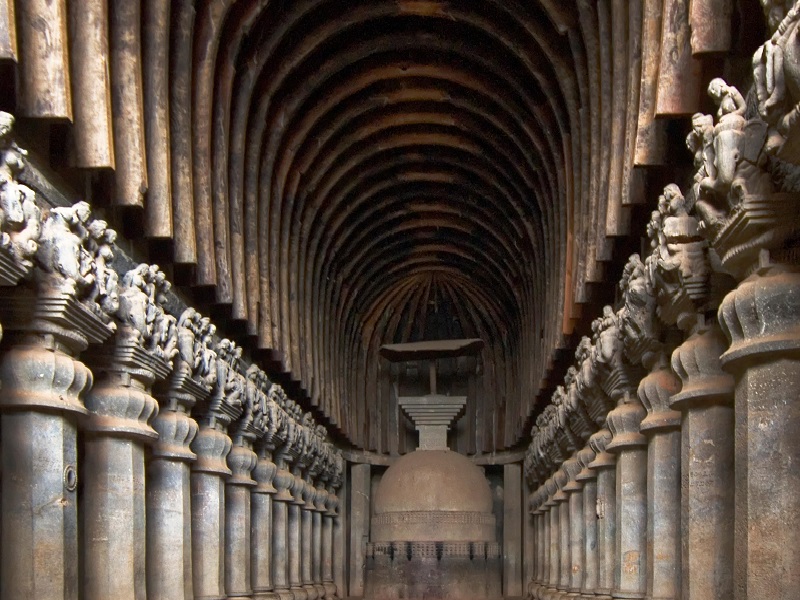 Karla Caves are a complex of ancient Indian Buddhist rock-cut cave temples located at Karli near Lonavala, Maharashtra. Among the well known historical places to visit near Mumbai & Pune, these caves are excavated nearly 100 m on a high spur of the chain of hills on the north flank of the Indrayani valley. The Karla complex consists of 16 rock-cut excavations of which cave 8 is the chaityagriha.These caves were developed over two periods – from 2nd century BC to 2nd Century AD and in 5th – 10th Century AD. The Karla Caves of rock excavations are not that elaborate when compared to its counterparts at Ajanta and Ellora. However, the grand chaityagriha of Karla is the grandest and the largest of all the chaityagrihas of India, and among the best places to visit in Lonavala.
---
Aurangabad Caves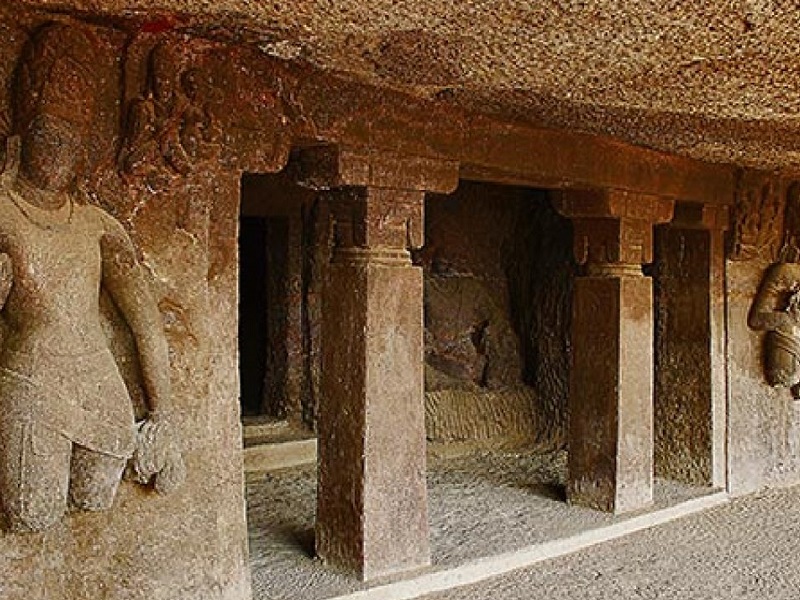 One of the most stunning caves in Maharashtra, Aurangabad Caves are 12 artificial rock-cut Buddhist caves datable from circa 2nd – 3rd century AD to 7th century AD. These caves were dug out of comparatively soft basalt rock and considered one of the best places to visit in Aurangabad. The caves are divided into three separate groups depending on their location. The first clusters of Caves are the incomplete set of caves with old-fashioned pillars and obscure ornamentation. The remaining caves are generally ascribed to the Kalachuri dynasty. Of all, Cave 7 is the most elaborate and famous for its sculptural embellishments. On plan it includes a central shrine with circumambulation with an outer corridor running all around.
They're not as grand as their neighbours in Ajanta and Ellora but one can see some lovely sculptural reliefs of Buddhist deities like Tara and Avalokitesvara here as part of Aurangabad tour packages.
---
Pandavleni Caves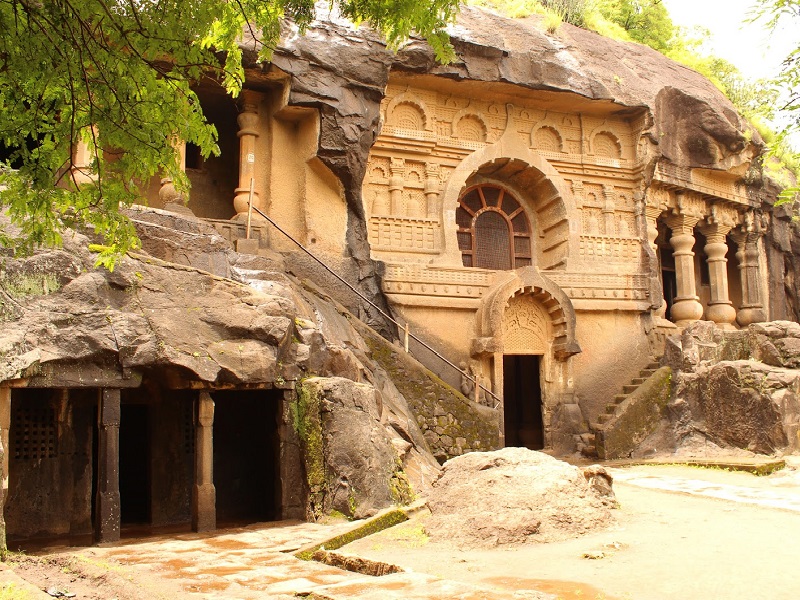 Pandavleni Caves or Trirashmi Caves are the ancient rock-cut caves situated on Trirashmi Hills to the south of Nashik. Among the popular places to visit in Nashik, Pandavleni Caves are a group of 24 caves carved between the 3rd century BC and the 2nd century AD, representing the Hinayana Buddhism. These caves were built by the rulers of that time like Satavahanas and Kshaharatas for Hinayana Buddhist monks. Most of the caves are Viharas except for the 18th cave which is a Chaitya. Caves 3, 10, 18, and 20 are the most significant and fascinating caves among the 24 caves which are noted for their magnificent sculptures. One can see shrines, cisterns, rare inscriptions, carved figures of Buddha and Bodhisattva, along with icons of some of the Jain Tirthankaras like Vrishabhdeo, Ambikadevi, Veer Manibhadraji, etc. here as part of Nashik Tour Packages.
---
Kanheri Caves
Another historical caves in Maharashtra, the Kanheri Caves are located inside Sanjay Gandhi National Park in the outskirts of North Mumbai. The Kanheri Caves constitute a group of rock-cut monuments chiseled out of a massive basaltic rock which is considered one of the top tourist places in Mumbai. These caves demonstrate the Buddhist influence on the art and culture of India. Formed between the 1st century BC and 10th century AD, Kanheri caves are divided into three different caves, each of which has a stone plinth for a bed. Most caves were named Buddhist Viharas in ancient times and were meant for living, study, and meditation. The most distinguished of these caves is Cave 3, which is India's second-largest chaityagriha, after Karla in Pune. The most impressive attractions of these caves are exquisite paintings of Gautam Buddha and a large Buddhist image known as Dagoba.
---
Junnar Caves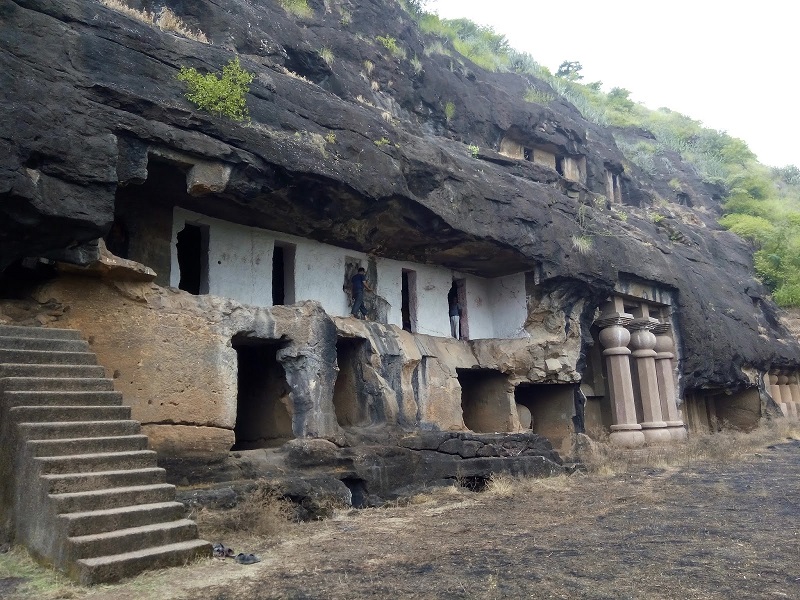 Junnar Caves are ancient rock-cut caves situated at Junnar in the Pune district of Maharashtra. Protected by ASI, Junnar has the largest and longest cave excavations in India. With over 200 independent excavations belong to the Hinayana phase, these caves are datable from mid-3rd century BC to the late 3rd century AD. The presence of the largest number of rock-cut excavations and a huge number of inscriptions enabling a paleographical study makes Junnar a prominent site for the study of rock-cut architecture in India, and among the popular places to visit in Pune. Junnar Caves are classified into various groups – Tulja Caves, Manmodi Group of Caves, Shivneri Group of Caves, and Lenyadri or Ganesh Lena Caves. The Lenyadri or Ganesh Lena Group is the main group and has nearly 40 caves. Among them Cave 6 and 14 are chaityagrihas and the remaining are viharas.
---
Pitalkhora Caves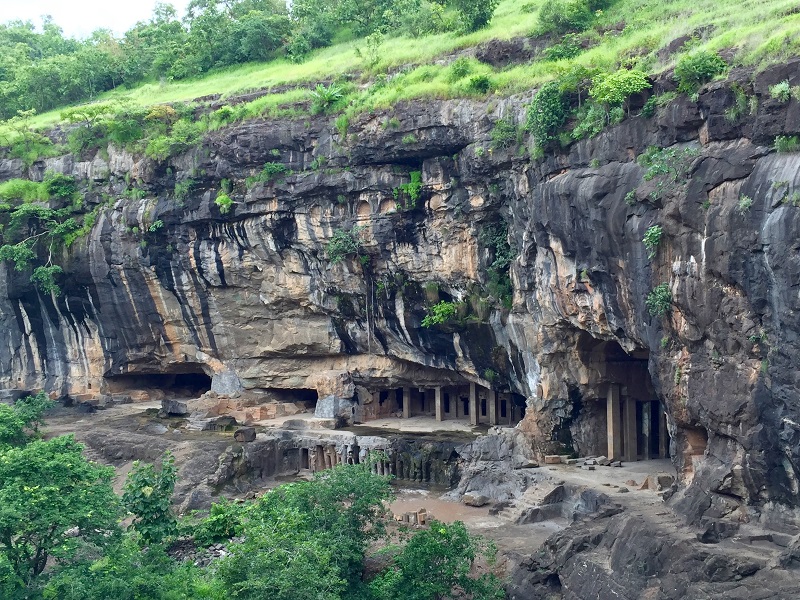 Located on Chandora hill, Pitalkhora Caves are an ancient rock-cut caves situated near Aurangabad. Dates back to 2nd century BC, it consists of 14 Buddhist Caves that are believed to be one of the earliest of the rock cut cave structures in the vicinity. The cave boasts with many sculptures, Miniature chaitya windows, paintings, animal motifs, the elephants, mithuna figures, dwarapalas and wonderful yaksha figures. These are one of the prominent places to visit near Aurangabad. Out of 14 caves, four caves are chaityas, and the remaining are viharas. The most important is the Cave 3 that has the best paintings. Besides, there are steps that lead down to a basement where there are many carvings and a stupa which houses many rare crystals.
---
Featured Source
Santhi is an avid traveler and primary contributor to the blogs at Trawell.in. She has explored most of the states in India and gained vast knowledge on tourist destinations in India and abroad. She also contributes content to other travel websites.