Placed in the Western Ghats of northwestern Karnataka, Dandeli is a quaint town located on the banks of the Kali River. It is counted among the most beautiful Karnataka tourist places. The place is also filled with diverse forms of nature, from mountains, caves, waterfalls to rivers and lush green landscapes that make it an ideal weekend getaway for people from Mumbai, Pune, and Bengaluru. With a perfect mix of water adventure sports, mystic flora and fauna, spellbinding natural beauty, breathtaking wilderness, panoramic views and serene nature walks, Dandeli provides tourists with an unreal escape from the bustling city life as part of Karnataka tour packages. If this was not enough, there are also numerous tourist places near Dandeli that one can visit and enjoy their beauty and serenity for a refreshing experience.
Here are some of the best places to visit near Dandeli during your Dandeli Trip.
Ulavi
Lies between Dandeli and Karwar, Ulavi is one of the top places to visit near Dandeli, and among the most important places of pilgrimage in Karnataka, especially for the Lingayat sect as the Samadhi or the tomb of Channabasavanna, one of the most revered saints of the Lingayat faith lies here. Originally the temple was in Chalukyan style but it has been renovated later. The temple is adorned with statues of Shiva Sharanas (Devotees of Lord Shiva). Apart from its religious significance, one can also visit numerous caves such as Mahamane Gavi, Aakalu Gavi, Vibhoothi Mantapa, and Panchalingeshwara Cave in Ulavi. The Channabasava Jalapatha or Kodathalli falls is a 50 feet height falls is also situated here.
---
Yana
About 55 km from Sirsi and 118 km from Dandeli, Yana is a small village in Karnataka well known for two massive rock formations known as the Bhairaveshwara Shikhara and the Mohini Shikhara. These rocks ranging from 90m – 120m in height are composed of solid black, crystalline Karst limestone. It is one of the major places to visit near Dandeli, and among the prime places to visit as part of Sirsi tour packages. A cave temple dedicated to Lord Shiva is found at the base of the Bhairaveshwara Shikhara whereas the idol of Goddess Parvathi is found at the base of the Mohini Shikhara.
---
Sathodi Falls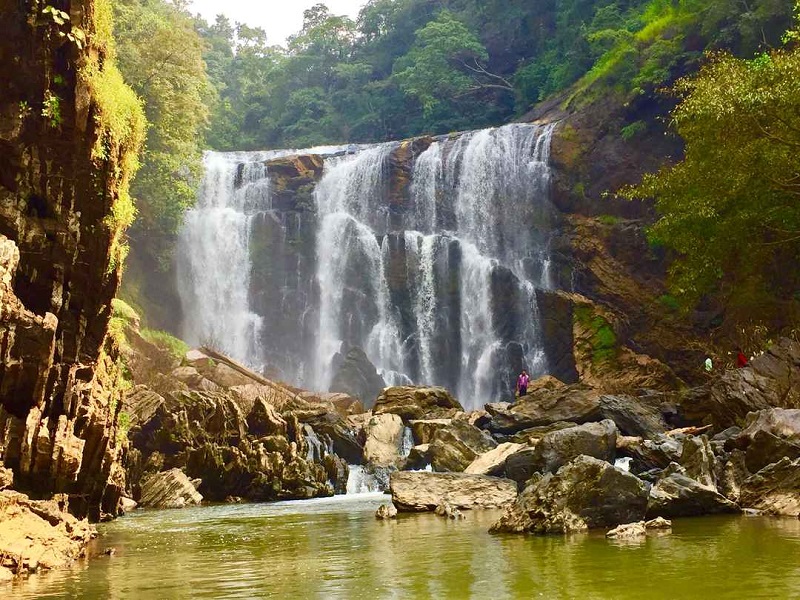 Sathodi Falls is a picturesque waterfall situated near Kallaramarane Ghat in the Uttara Kannada district of Karnataka. About 75 km from Dandeli, it is one of the beautiful waterfalls in Karnataka, and among the must include places in Dandeli tour packages. Popularly known as the Mini Niagara, it is formed by several streams and cascades down from a height of 50 feet. It further joins the backwaters of the Kodasalli dam built over the Kali River. The fall drops into the natural pool that surrounds the rock and swimming is possible here. It is advisable to avoid this place during peak monsoon season.
---
Sirsi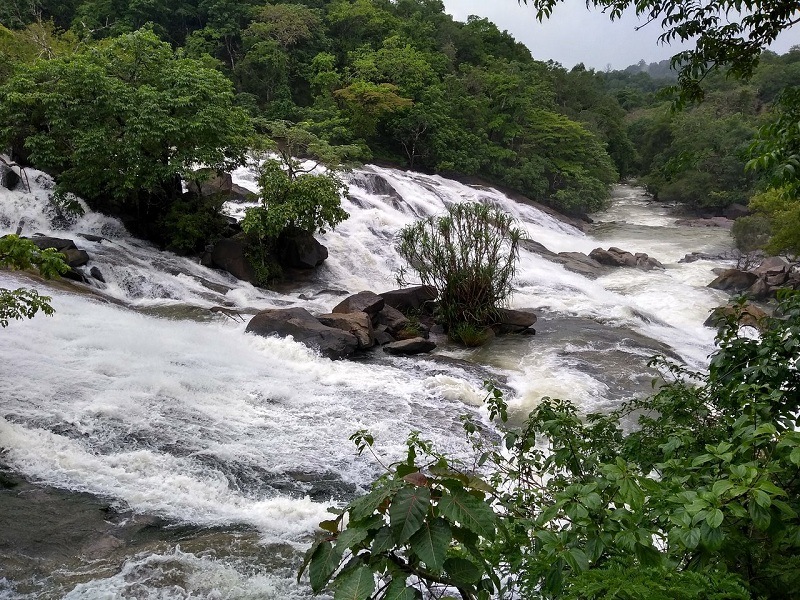 Sirsi is a small hill station located near Dandeli in Karnataka. Situated at an altitude of 2000 feet, Sirsi is surrounded by thick forests and towering hills. Often called the 'Gateway of Malenadu' or 'Gateway of Western Ghats',  this beautiful hill town is one of the popular places to visit near Hubli. Unchalli Falls, Vibhuthi Falls, Marikamba Temple, Sri Mahaganapathi Temple, Magod Falls, Benne Hole Falls, Shivaganga Falls, Muregar Falls, Burude Falls, Mattighatta Falls, Manjuguni, Sahashralinga, Sodhe / Sonda, Devimane Ghat, Banavasi, and Gudavi Bird Sanctuary are some of the important places to visit in Sirsi. Sirsi provides ample opportunities to trek on the many hills and mountains that surround the town.
---
Magod Falls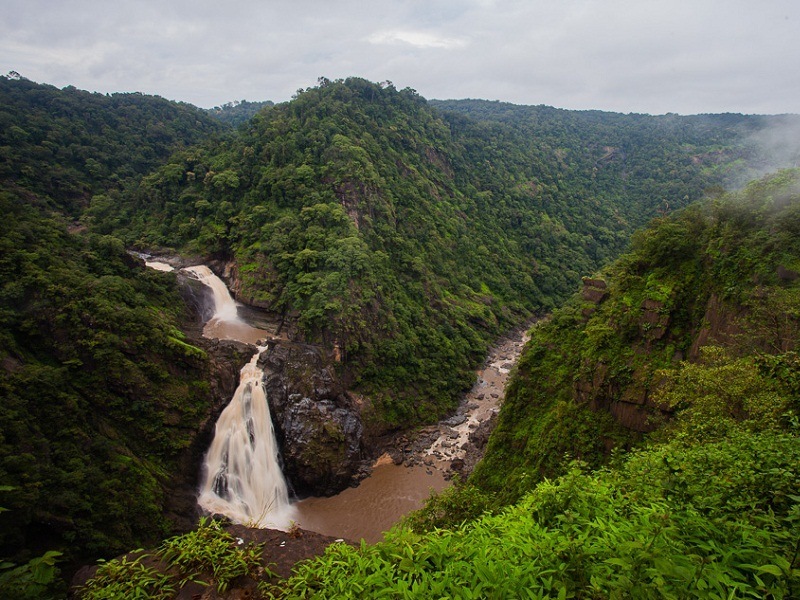 Magod Falls is a group of waterfalls situated at Magod village near Dandeli. It is one of the best waterfalls near Hubli. Engulfed amidst the trials of the Western Ghats, Magod Falls is formed over the Bedti River. It is a two-tiered waterfall that falls from 200m in cumulative height and then split into two segments. The thickly wooded countryside, the roar of gushing water, and a beautiful view combine to make this spot one of the best tourist places in Dandeli, and also a trekker's paradise.
---
Jog Falls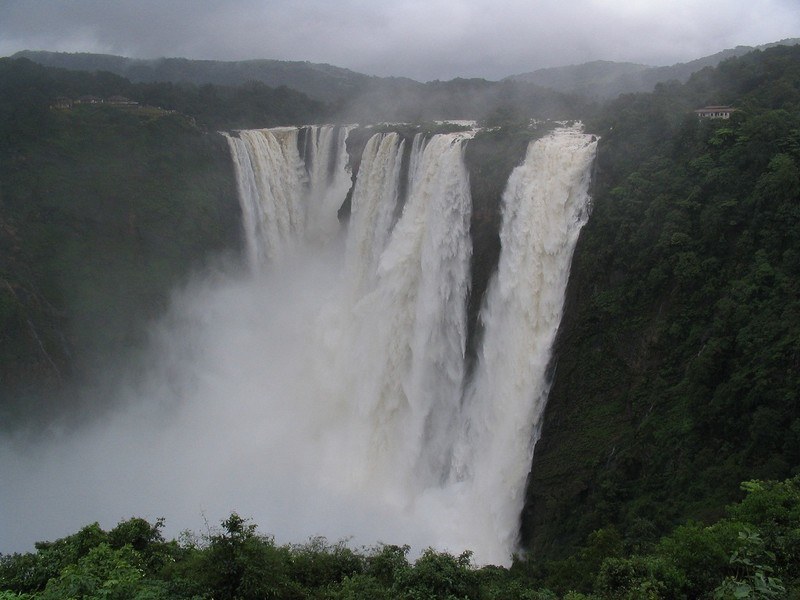 Locally known as Geruoppe Falls, Gersoppa Falls, and Jogada Gundi, Jog Falls, formed over the Sharavathi River is one of the highest plunge waterfalls in India, and among the must-visit tourist places near Dandeli. The Sharavathi River flowing over a very rocky bed about 250 yards wide, 253 m (830 feet) deep and the water comes down in four distinct falls known as Raja, Rani, Rover, and Rocket. The four cascades merge to form the huge waterfall. The Raja Fall pours in one unbroken column sheer to the depth of 830 ft. Besides, Unchalli Falls, Bennehole Falls, Kudumari Falls, and Koosalli Falls are some of the best places to visit as part of Jog Falls Tour Packages.
---
Gokarna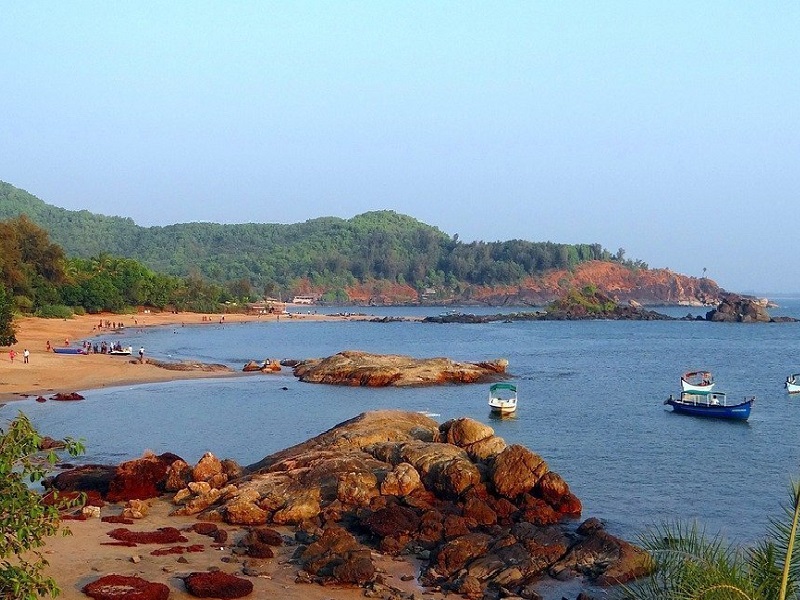 Gokarna is considered one of the famous places of pilgrimage in South India as well as in Karnataka. The town is home to the famous Mahabaleshwar Temple which houses the Atmalinga that was given to Ravana by Lord Shiva himself. Besides Mahabaleshwara temple, Maha Ganapathi Temple, Bhadrakali Temple, Varadaraja temple, and Venkataramana temple are other places to visit as part of Gokarna tour packages. Apart from being a religious town, Gokarna is also known for its beaches. The Om Beach, Kudle Beach, Gokarna Beach, Half Moon Beach, and Paradise Beach are the five main beaches here.
---
Unchalli Falls
Unchalli Falls is a magnificent waterfall situated at Heggarni in the Uttara Kannada district of Karnataka. Counted among the best waterfalls in Karnataka, Unchalli Falls is created by a 116 m drop in the Aghanashini River. The Aghanashini River here takes a deep plunge to create this spectacular waterfall. This waterfall is also known as Keppa Joga and Lushington Falls. It is one of the top places to visit in Jog Falls.
---
Featured Source
Santhi is an avid traveler and primary contributor to the blogs at Trawell.in. She has explored most of the states in India and gained vast knowledge on tourist destinations in India and abroad. She also contributes content to other travel websites.