Often referred to as Queen of Hill Stations, Shimla, the capital of Himachal Pradesh, is one of the most beautiful hill stations in India and among the must include places in Himachal Tour Packages. Shimla is an all-time favorite holiday destination for many travellers due to its colonial architecture, breathtaking landscape, and rejuvenating views of lofty Himalayas. During winter months of December & January, this colonial hill town is even more mesmerizing when the town and its surroundings are blanketed with layers of snow which will make every tourist fall in love with it, especially honeymoon couples. If you want to enjoy the snow and try your hand at skiing, snowball fights, and snowman creations, check our list of 6 best places to see the snowfall in and around Shimla.
1. Shimla Town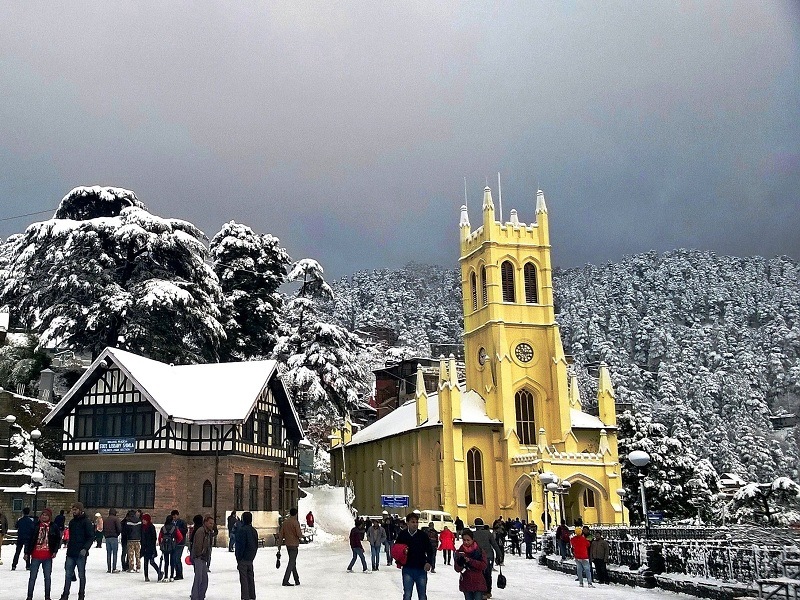 Located in the lap of Himalayas, Shimla, the hill town itself records substantial snowfall during winter. It is one of the main draws for tourists as the town wrapped in a thick blanket of snow and looks nothing less than a fairytale land. Studded with many shops and eateries, the Mall Road is definitely one of the must-visit places as during the snowfall season as part of Shimla Tour Packages. Indulge in shopping is a memorable experience as you walk past the snow-covered street market of the town. Tourists can also grab some delicious snacks from various eateries lined across the road. Another popular place to enjoy the snow in Shimla is Jakhoo Peak. Being the highest point of Shimla, Jakhoo Hill receives maximum snowfall in the city. Also, the Ridge is another prominent place in Shimla where people come to enjoy playing with snow.
---
2. Kufri
If you are planning to visit Shimla to enjoy snowfall, Kufri is one of the best places in Shimla that you can't deny of going. Just 16 km away from Shimla, Kufri has been recorded as the highest snowfall in Shimla every year. The lofty valleys of the small hill town turn ethereally white during winters, offering some of the most beautiful sights. Also known as the 'Snow Resort', the picturesque hill station of Kufri is also a popular destination for skiing enthusiasts, housing some of the most attractive ski-slopes in India. The ski slopes and breathtaking views from the ridge of Kufri are crowd pullers. Besides, Kufri is also a haven for nature enthusiasts and wildlife lovers as it is home to the Himalayan Nature Park.
---
3. Narkanda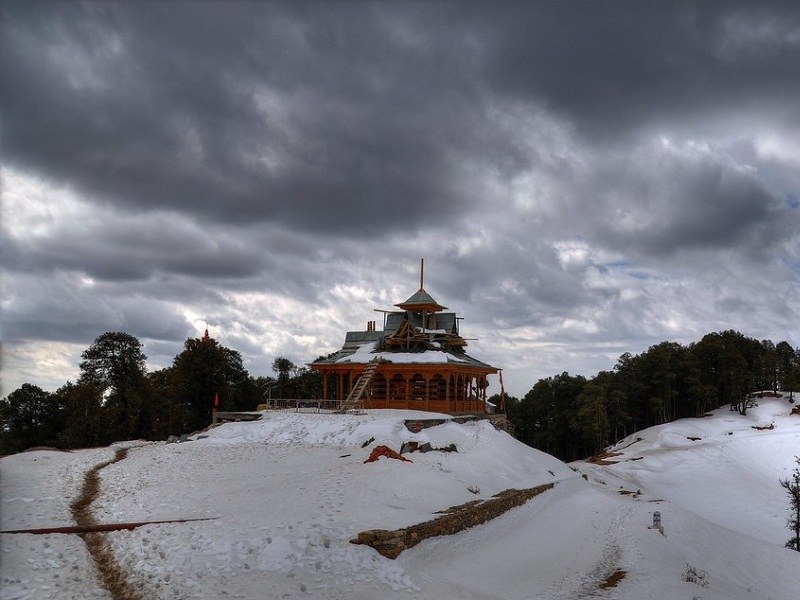 Situated about 60 km from Shimla, the quaint town of Narkanda is another best place to see the snowfall in Shimla. During winter, the mesmerizing beauty of this opulent hill town manifolds with densely covered snow peaks and fully gets converted into a ski resort. It is an ideal getaway for those who want to relax in an undisturbed and tranquil location, far away from the bustling city life. In addition to the exquisite beauty, Narkanda is also a perfect choice for skiing enthusiasts as the slopes of the Narkanda are perfect for the beginners as well as experienced skiers. Any Narkanda Trip is incomplete without taking a trekking expedition to Hatu Peak, the second-highest peak in Shimla. Besides,  the snow-covered orchards of apple and cherry dotting its verdant hills add to its visual appeal, making it a favorite among landscape photographers.
---
4. Mashobra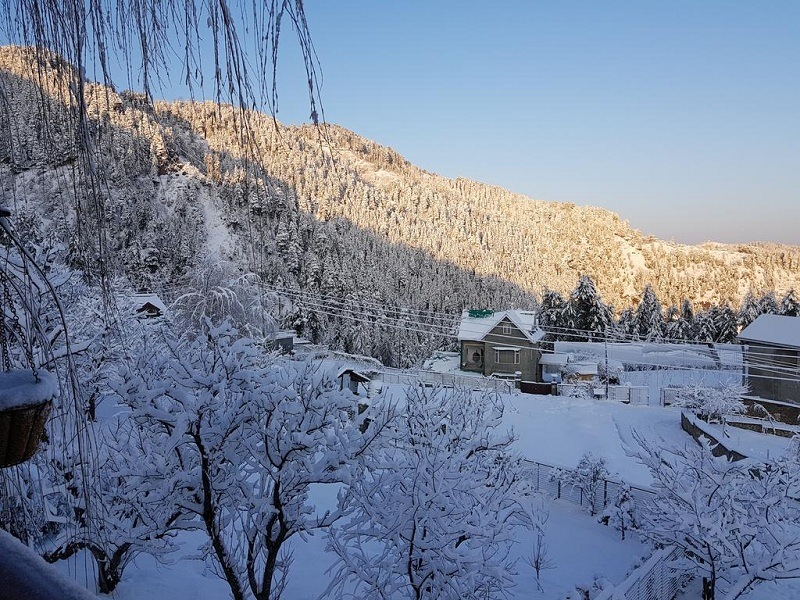 If you are a peace-seeking soul and looking for a quiet winter trip to Shimla, then the serene town of Mashobra is the place for you as winters bring a different charm to this place, making it appear all the more beautiful. Situated at an altitude of 7,700 feet amidst the Reserve Forest Sanctuary of Shimla, Mashobra is one of the best snowfall places in Shimla that will keep your breaths on hold for some time with the beautiful sceneries and heavily snow-covered peaks. Besides, this mesmerizing hill town offers several activities for adventure junkies like skiing, trekking, and rappelling. Skiing down the snow-covered hills amidst the snow-laden trees make you feel like featuring a movie of the '80s. Hence, a trip to Mashobra during December is full of fun excitement and memorable as well.
---
5. Rohru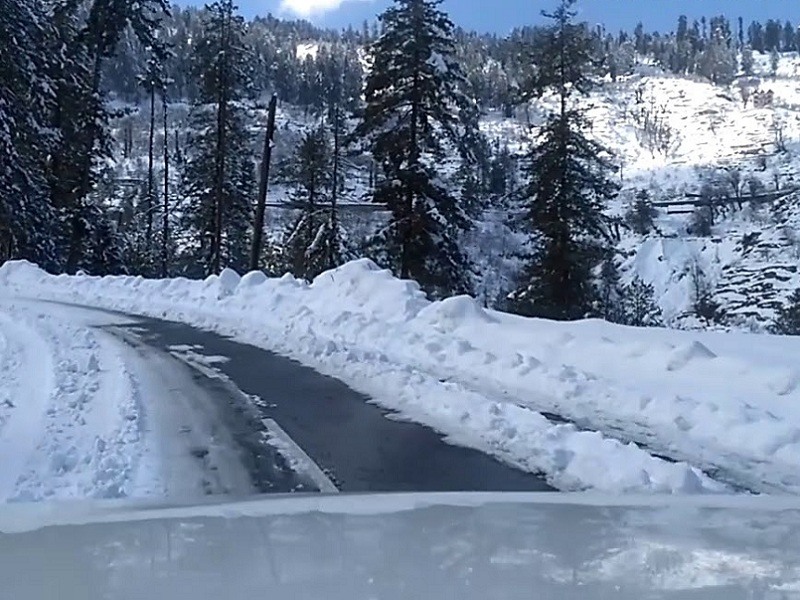 Situated on the banks of Pabbar River, the picturesque town of Rohru is one of the lesser-known places to see snow in and around Shimla. During winter, the town gets whitewashed with snow and offers fabulous views of the snow-laden valleys. This unexplored part of Shimla is less crowded so one can enjoy the snow peacefully. The clear waters of the Pabbar river are home to abundant trout and thus, is an ideal spot for fishing enthusiasts. Another attraction of Rohru is the sprawling apple orchards. Besides, it is also a great escape for adventure junkies as it offers some exciting trekking trails like Chandernahan Trek that takes you to some incredibly beautiful landscapes.
---
6. Naldehra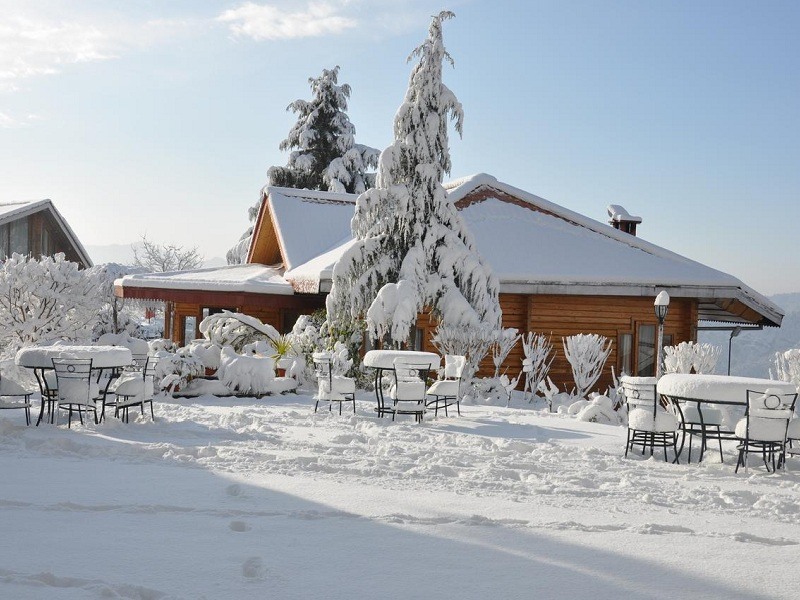 Situated about 25 km away from Shima, the unexplored hill town of Naldehra is one of the best places to witness snowfall in Shimla during winter. Naldehra is surrounded by pine-fringed valleys and huge Himalayan Mountains. The breathtaking snow-laden Himalayas, pine-fringed valleys, and a magnificent golf course make Naldehra an ideal destination in the Himalayas. This place is home to the oldest 9 hole golf course in India and is also known for its luxurious resorts, and picnic spots where one can spend quality time with families and friends. One can go on a gentle trek up to Craignano or go for a longer trek to Shalli Peak.